Drum Design Awards
We're thrilled to announce that a book commemorating the centenary of Armistice, which our editorial director Lisa helped create, has picked up a prestigious Drum Design Award.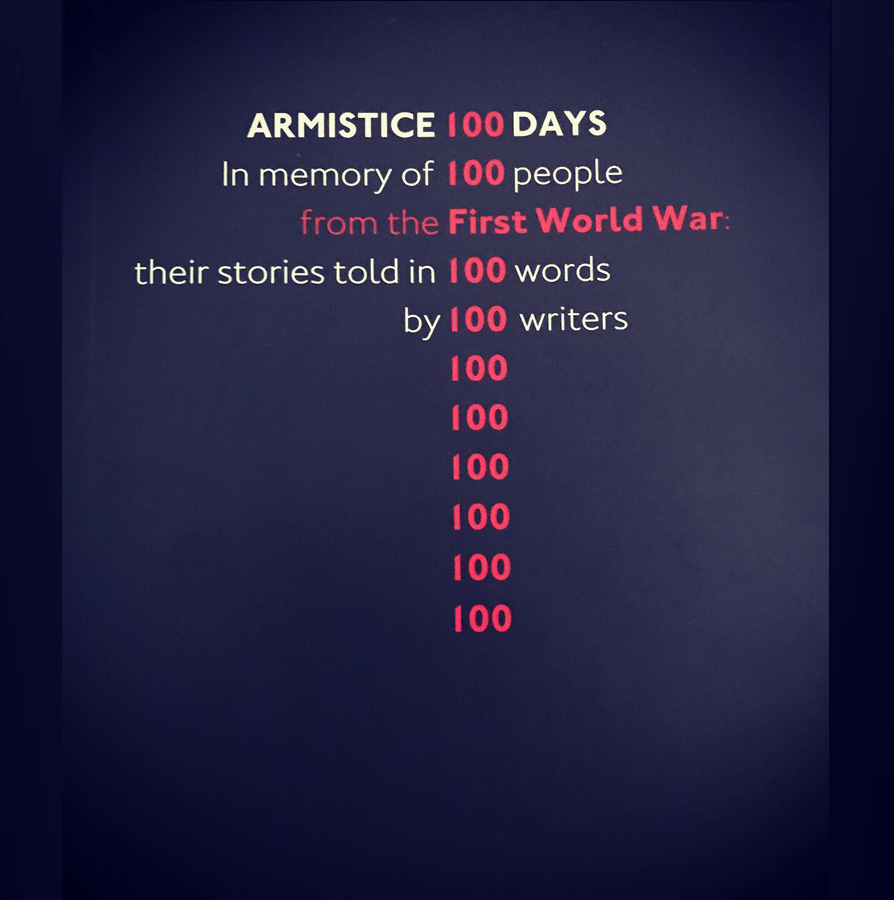 Developed by writers' group 26, in partnership with Imperial War Museums (IWM), Armistice 100 Days won the Writing for Design award and was nominated in the inaugural Writing for Good category. It also earned itself a nomination at the 2019 D&AD Awards.
Designed by David Carroll, the book brings together 100 centenas – a new form using exactly 100 words – written by 100 writers to honour 100 people who were alive during the First World War. The writers and their subjects hailed from all over the world, representing the whole spectrum of the war. Each centena reflects a generation that is no longer alive – many of whom felt unable to speak of what they saw, or died before they had a chance
Lisa – a member of the 26 board – led the organising team, helping to turn 26 co-founder John Simmons's idea into a fully-fledged digital, film and print project. As well as the book, 26 and IWM published one centena every day for 100 days on IWM's First World War Partnership website and several writers got the chance to commit their centenas to film, thanks to IWM's in-house team. Lisa was also part of the core editing team and one of the 100 writers. Her centena commemorates her great-grandfather, Horace Sumner, who served on hospital ships. Here she is reading her poem.
After failing to secure Heritage Lottery Funding, 26 decided to crowdfund their award-winning book. It took just 10 days to raise the money needed to make the book a reality, with a portion of those funds donated to War Child. "Right from the start of the project, John and I felt very passionate about the need to create a physical memory," says Lisa. "Reading all the pieces only made us more determined to make it happen.
"The words we use wield such power," she adds. "Too often they are used in provocation or to point out what divides us. We wanted this project to offer an alternative – to use our words to remind readers that what connects us is our humanity. What we ended up with was an incredible collection of stories of people showing compassion in the face of appalling circumstances, who chose to protect others ahead of themselves. Winning a Drum Design award has been a fitting end to an incredible project."
The book is still available to buy via the 26 bookshop. The IWM digital site is in the process of being archived for future posterity.