Building community through blogs
Take a look at how we mixed beautiful design with professional storytelling and a simple-to-use technical framework to help this sportswear brand build community through content.
It's always exciting when we get to help our clients build something new, particularly when it's something that is designed to help grow a community of like-minded people. Which is why, this month, we're celebrating the Proviz blog Invision.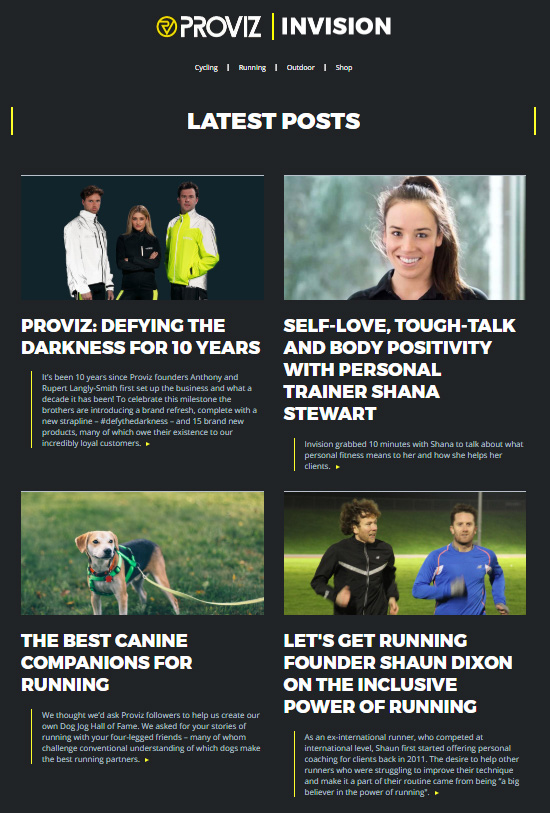 Set up in 2009, Proviz is an international, award-winning sports brand that sells specialist light-emitting and highly-reflective sports gear, such as jackets, helmets, gloves and rucksacks. The team behind the brand has done a great job of building a thriving retail business and was looking to find ways to deepen its relationship with its customers.
Building community (and, therefore, business) through content marketing is not a quick process – you need to create stories that will be of interest to your customer and that can mean an element of trial and error. But there is lasting value to be had, so it's worth taking the time to build the right approach for your business.
In Proviz's case, this meant creating and stocking a brand new blog. But with so many blogs out there, we knew that we needed to make this one feel special. And since Proviz is a commercial business hoping to sell more of its product, we also knew that its editorial content needed to support that endeavour. So, we set about creating a subtle, easy-to-navigate space that we could fill with interesting stories on subjects that Proviz customers care about.
Here's how we did it:
The design:
First up, we needed to strike a balance between complementing and enhancing the existing brand, while introducing elements that allow the blog to stand slightly apart from the shop – we want visitors to know straight away that this is the home of Proviz editorial. So, we went for a simple, yet striking, design that uses a monochrome palate of blue-tinged greys and blacks to represent dusk and night-time – the time of day when Proviz products come into their own – accented with hints of neon yellow that signpost key elements and calls-to-action. We've inverted our article pages, however, as black text on a white background is easier to read when you have longer pieces of content.
The blog needs to pull its weight commercially, but we wanted those commercial aspects to be subtle and beautifully integrated, so we've made them feel like part of the overall design, rather than an add-on. Finally, we boxed out our blog tags and categories and created a highlighted rollover so that the reader can easily differentiate between the different categories, offering an alternative way to navigate the blog's content.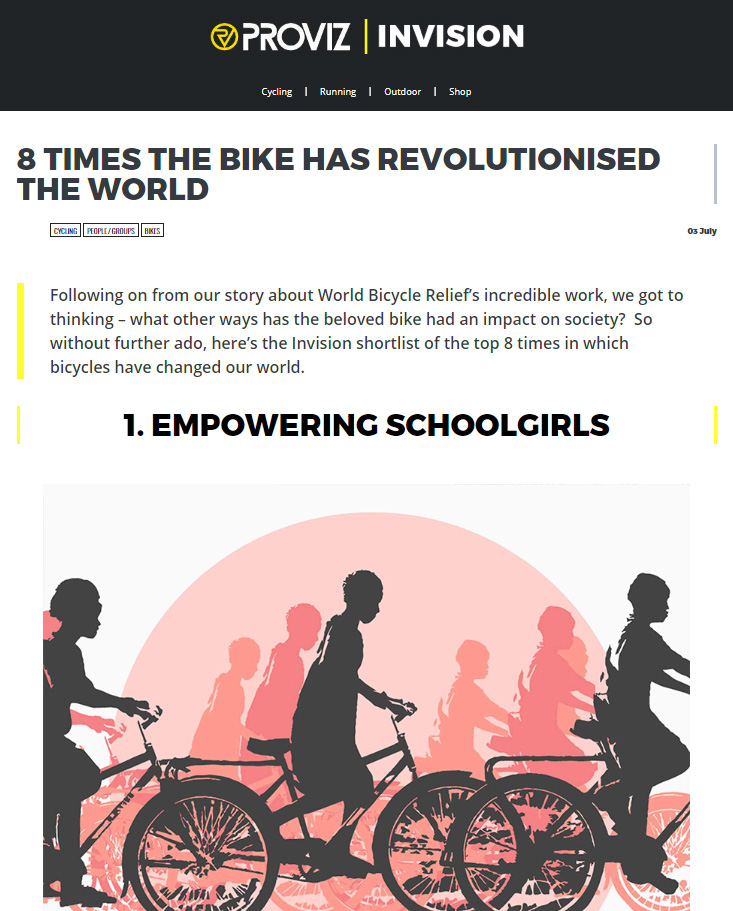 The storytelling
Communities like reading and sharing stories that are relevant to them and we wanted this blog to work very hard at building just such a community. So, we took a specific magazine approach, writing articles in a variety of different styles – everything from top five 'listicles' to Q&As with sports experts – and choosing stories that we think will offer the Proviz community something more, be it nutrition advice, ideas for great walks, or even encouraging runners to consider taking up yoga to support their main passion.
In order to create some clear boundaries around our choices, though, we needed to split up the content into specific themes. This helps readers better understand what they can expect from your blog and decide very quickly if a story is something that they are interested in reading. We didn't want too many categories, since that can quickly feel overwhelming, so we agreed on three. Given that so many Proviz customers are keen cyclists and runners the first two were easy. Our third needed to sweep up a variety of interests – walkers, triathletes, skateboarders, general health fans – so we hit upon the 'outdoor' category, as a way of signposting what links so many of these activities.
It's early days, but we have some exciting editorial ideas coming up that we hope will start to turn the blog into a two-way conversation, so that Proviz customers are actively participating in the blog's growth as well as learning something new.
The technical
We purposely went for a technical build that is very clean and simple – the best blogs need updating on a regular basis and it's all too easy to let them fall fallow. Ensuring that your technical framework is as simple to use as possible helps keep that momentum going. If it's easy to use then it's quick to update.
It's also an entirely bespoke system, which help us to ensure that the content presents itself to search engines in the most accessible way and allows us to add new functionality as we grow and adapt to our community's needs.  And, because all the functionality is bespoke, we can ensure blistering load times and cross-device compatibility.
Client Testimonial
Digital Potion have been fantastic to work with, they are innovative with their suggestions and proactive in suggesting great strategy to take us towards our goals. They are helpful, very easy to work with and were quick to pinpoint the issues we had with a sensible and clear solution moving forward. They certainly know their stuff, from SEO, marketing and everything you would want from a digital agency. There are a lot of people who think they know SEO and how it works and then there is Digital Potion, I would definitely recommend them.

Anthony Langley Smith
Co-Founder: Proviz Sports
Take a look at the results for yourself over at InVision and drop us a line if you'd like to talk about how we can help you develop a conversation for your community.